A Spiritually Minded Space for Your Next Retreat
Nestled away in the foothills of Southern Vermont, Sētu offers a tranquil space for relaxation and deep self-reflection. Located on thirteen acres of forested land, our space is enhanced by captivating views of Round Mountain, a delightful spring-fed pond, and many nature trails. Downtown Brattleboro lies only a few miles away from Sētu where guests may access local charming shops, cafés and restaurants, but our location is still far enough removed so that we're not disturbed by noisy city life & Light. This creates the perfect place to host your team or a weekend get-away. We are four hours from New York and two hours from Boston, Massachusetts. We work hard to provide a holistic space steeped in Indian traditions, dedicated to going above and beyond our guests' expectations with our attentive Punjabi-style hospitality.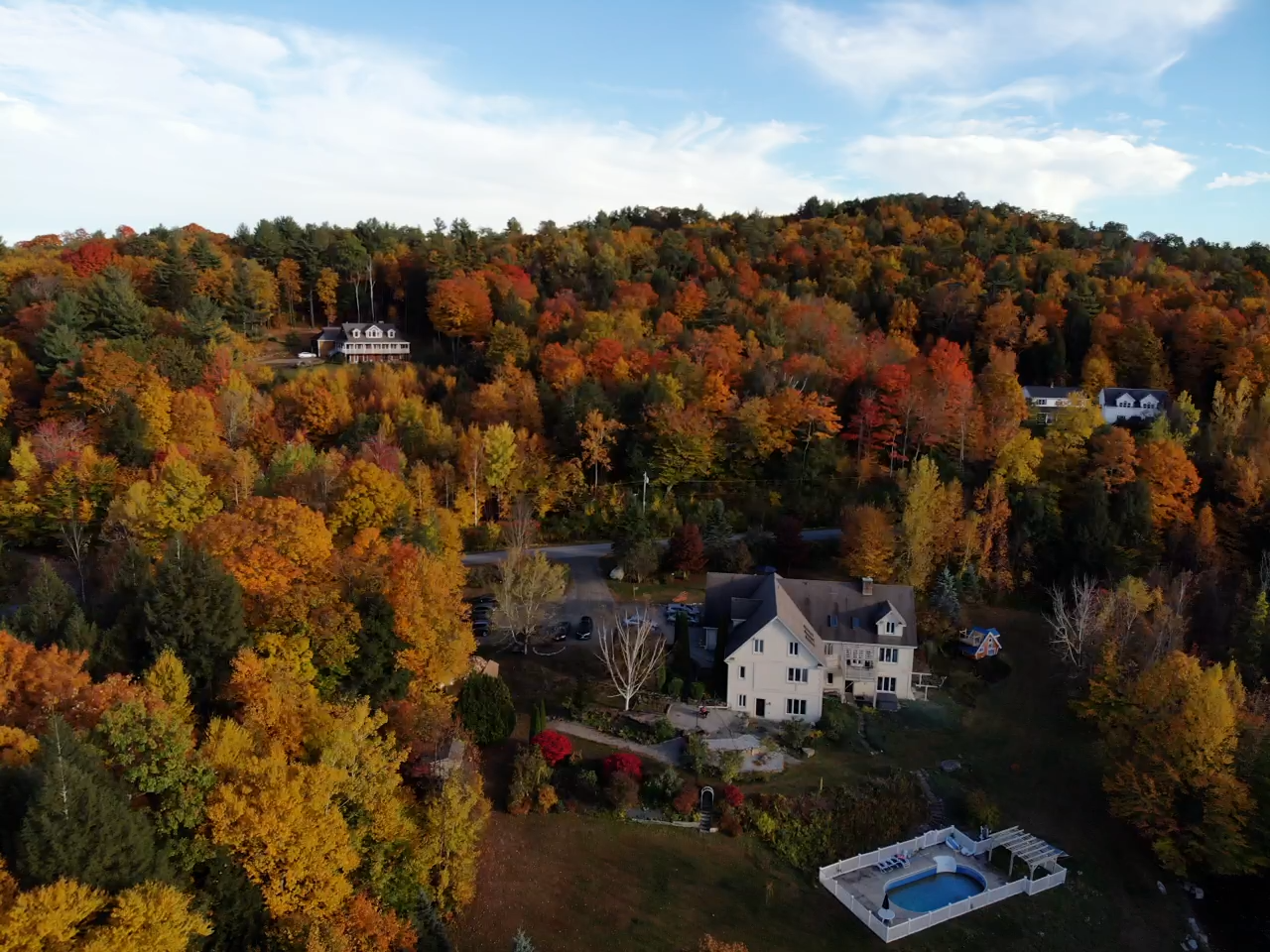 Why host your retreat here?
Sētu exclusively operates and leases space for programming focused on yoga, meditation and art, making it an ideal location for groups looking to host spiritual, reflective, and artistic meetings or retreats. The main house boasts seven luxury rooms with views of nature from every window; a state-of-the-art yoga space equipped with a PA system and Hue lighting; a living room and dining room with views of the mountains and natural waterscapes; as well as ample opportunities to get outside and enjoy our terraced, perennial gardens, dip in the pool, or stargaze from our 32-jet Nordic hot tub. We offer a broad range of additional amenities including Yoga-Vedanta philosophy lectures, Sanskrit chanting, pranayama workshops, gong meditations w/singing bowls, Indian Ayurvedic meals, and kirtan, allowing you to personalize your group's retreat.
For example, if you're interested in creating an immersive Indian experience, we can include a morning Sanskrit chanting session, followed by a locally-sourced and freshly prepared Indian meal using the principles of Ayurveda, with an evening fireside chat on Yoga-Vedanta philosophy. Or, perhaps you'd like to encourage creativity, relaxation, or a calm, clear mind. Our list of amenities is flexible and can be tailored to create unique, personalized experiences, a boon for any retreat organizer.
In summary, Sētu reflects the vision of its founders. Champions of applied yoga— taking the principles and formulas from yoga and applying them to workplace & home-place to achieve full operating potential—the owners have enjoyed successful careers as innovators, researchers, authors and on on-stage presenters.
We offer the option to book our entire retreat center or half the retreat center, optimizing the space to meet you group's need.
Room Option 1: Full-Retreat Rental for Up-to 18 Guests
Expected Summer 2020 up to 23 guests
Included: Chai upon arrival; Morning coffee/tea and continental breakfast each day; Saturday evening Gong Meditation w/ singing bowls; Exclusive hot tub access; Exclusive pool access in summer; Five hours of exclusive yoga shala access; Resident manager handles guest check-in and checkout, owns onsite guest experience, room management, housekeeping, maintenance, and food and beverage
Book in 2019:$4500
Book in 2020: $5400
Hot Breakfast
Of Indian or Western Origin
Cost: $10 per/person (whole group price)
Sample Options Below. Actual menu options chosen determined upon booking.
Lunch
Simple Lunch seasonally/locally sourced
Cost: $15 per/person (whole group price)
Sample Below. Actual menu options chosen determined upon booking.
Dinner
Dinner of Indian or Western Origin, seasonally/locally sourced
Cost: $20 per/person (whole group price)
Sample Below. Actual menu options chosen determined upon booking.
Need a break from leading activities?
Sētu can provide the following add-on activities to keep your guests engaged, learning, and enjoying.
See retreat guide for pricing.
The following indulgences are also available for your guests to book, creating a personalized experience.
See retreat guide for pricing
Start the Conversation
For your convenience we have provided the button below, which opens the initial retreat inquiry form in a new page, so you can easily toggle back and forth between the options above and the form.